House Patrons
The names of the four Houses which the students belong to come from the founders of the religious orders which firmly established Catholic education in the diocese in the last century.
Champagnat House
Takes its name from Saint Marcellin Champagnat, the founder of the Marist Brothers. The Brothers were founded in France in 1817 to respond to the spiritual and physical needs of the young and poor, especially through education. By the time Champagnat died in 1840, there were over 280 Brothers, and already some had left as missionaries in lands far away. Today, Marist Brothers live and work in 70 countries and number about 6000. The Marist Brothers came to the Diocese of Maitland in 1898, opening schools in Maitland and Newcastle.
Dominic House
Is named after the Spaniard, St Dominic de Guzman, ca. 1170-1221, the founder of the Order of Preachers (the Dominicans). At an early age Dominic was motivated to oppose the heresy at the time which promoted the dual concept of a good God and an evil God. Travelling on foot, Dominic founded communities of his Priests and Sisters in France, Italy and Spain. The Sisters of St Dominic are now found in all parts of the world; they came to the Diocese of Maitland in 1867.
MacKillop House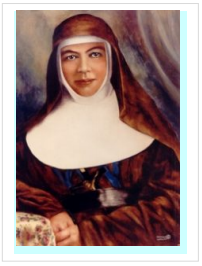 Is named after Saint Mary of the Cross MacKillop, the founder of the Sisters of St Joseph. Mary, the eldest of eight children, was born in Melbourne on 15 January 1842. Not a great deal is known about her early life and education, but as an adult she wrote that her home was not a happy one. Her father experienced great difficulty in supporting his family, emotionally and financially. At the age of 16 Mary sought employment and had a succession of jobs. In 1860, when she was 18, Mary went to Penola in South Australia, where she took up the position of governess. It was here
that she first met Fr Julian Tenison Woods. Between them they established a new religious congregation dedicated to the work of educating children in the area. The Sisters of St Joseph were founded, and schools conducted by them spread rapidly; they came to the Diocese of Maitland, to Lochinvar, in 1883.
McAuley House
Is named after the Venerable Catherine McAuley, 1778-1841, the founder of the Sisters of Mercy. Born in Dublin, she established a House of Mercy for the poor in Dublin in 1827, and, with encouragement from the local archbishop, founded a religious community in 1831 to serve the poor, the sick, and the distressed. Between 1831 and 1841, the year of her death, Catherine personally opened twelve of the fourteen original Convents of Mercy. In time, the Sisters of Mercy became the largest group of women religious established in the English-speaking world; they came to the Diocese of Maitland, to Singleton, in 1875.