Vision, Mission & Values
Our Vision
St Francis Xavier's College will be recognised as a vital community, proclaiming Jesus as Lord, witnessing Excellence, Generosity and Compassion shaped by the Catholic tradition; where all engage in active evangelisation and quality teaching and learning; where senior students, along with their teachers, parents and carers participate fully in the life of the College reaching out to others through their families, parishes and society; and where all realise their full potential.
Our Values
Our College is a place where people know that God is recognised and spoken about.
Feel welcome, accepted and valued.
Grow as Christians.
Pursue knowledge and lifelong learning.
Develop an awareness of social justice and ethical issues.
Exercise responsible care for each other.
Understand and appreciate the role and contribution of families.
Grow towards wholeness.
Develop their own special identity.
Develop a healthy discipline and respect for self
Our Mission
To bring St Francis Xavier's College closer to achieving its vision by bringing together the teaching, learning, resources and support services required so that all involved in the College feel enabled and empowered to achieve their vocation in life.
St Francis Xavier's College is a comprehensive, co-educational Catholic College serving students and their families in Newcastle. As part of the Catholic School System we receive our mandate from the Bishop of Maitland-Newcastle and within that, the College is administered according to Diocesan Education Policy and shaped by the Marist Tradition of Education.
The college motto `Christ My Light' animates the life of the college, and we recognise and celebrate the contribution of our four House Patrons drawing on a central feature of each.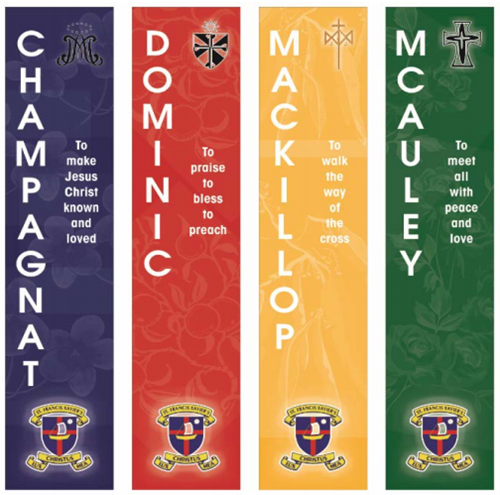 Champagnat (Marist Brothers) Family

Dominic (Dominican Sisters) Truth

MacKillop (Sisters of St Joseph) Service

McAuley (Sisters of Mercy) Mercy
We are committed to providing a curriculum that caters for the diversity of student needs, one that is Catholic and imbued with Gospel Values. Such a curriculum is holistic (mind, heart, body, soul) challenging, appropriate and is concerned with excellence and a keen sense of personal and social responsibility. We achieve this by striving to establish a learning community and an enlivening experience of Christian faith so that our graduates leave us as good Christians and good citizens having entered into a personal relationship with Jesus. They will take with them a Catholic perspective, they will be confident in themselves and their education and they will have an attitude to learning that will enable them to respond positively to the challenges and choices that will confront them in an ever changing world.